Enjoy this magnificent region and stay in some very unique
Otways Accommodation
By using Otways Accommodation you will be dealing DIRECT with the owners. That's just the way they like it.
The Otways : There simply is no better place on earth.
Otways Accommodation is the Number One site for accommodation in the Otways and it is so true that there is no better place on earth! And I'm not just agreeing because I live here and I'm biassed!  Ask anyone. The Otways, or as it is officially known, the Great Otway National Park, is quite frankly a small piece of heaven. Check out our friendly koala above : Do you think he would want to be anywhere else? From Lorne to Apollo Bay and beyond there are just so many beautiful spots that you will literally find yourself spoilt for choice. Much of the Otways encompasses and includes many towns dotted along the Great Ocean Road. This is the most well known part of the Otways and is well visited, especially in peak seasons when these small seaside hamlets can become very crowded. Fortunately, Otways accommodation is both plentiful and varied but you should book well in advance if you intend visiting in peak seasons.  Each of these small towns is a real gem and there is a very good reason they are so popular but keep in mind that there is so much more. Have a good look around, take your time and find your adventurous side. This site deals primarily with accommodation in the Otway Ranges but you will also find plenty of options for Great Ocean Road accommodation. From budget and backpacker accommodation through to romantic accommodation & some of the best Great Ocean Road luxury accommodation options you will find. A great deal of the accommodation available is pet friendly (Johanna is the only beach in a national park in Australia where you can bring your dog) and you will find everything from budget to Otway farm stays to luxury accommodation and resorts and some of the best romantic getaways in the Otways. Have a good look around before you decide where to stay. There are lots of options available. Once you have made your choice simply click on the more info button and you will be directed to the accommodation provider's personal website. This will enable you to deal direct with the owners and save as many operators have special deals, especially in the off season. Don't forget that the Otways is smack bang in the middle of the Great Ocean Walk so you might also like to consider one of the many Great Ocean Walk tours which are available. Thank you for using Otways Accommodation and for thinking about holidaying in the Otways – you won't be disappointed!
The Great Ocean Road
The Great Ocean Road stretches for more than 100 kilometres from Torquay to Warrnambool and beyond to Port Fairy and follows a coastline that is simply awesome. This is without any doubt one of the greatest drives in the world so take your time and enjoy it. So many people simply stay in Melbourne and think they can do the Great Ocean Road as a day trip. Forget it! You will be doing yourself a great disservice. You will spend most of the day in a vehicle and see very little of this fantastic area. There is so much more to this region than the 12 Apostles. To begin with you will be passing by countless beaches which will be imploring you to stop and say hello – and it would be rude not to. After a walk or perhaps a swim, you'll be in need of some refreshment and all of the seaside towns have lots of good cafes and restaurants. More than likely you'll be thinking "Perhaps I should have booked in here for a few days?" All of the towns along the coast are real gems and deserve a longer stay to appreciate what they have to offer. Give some thought to your holiday – have a good look through this site – and book carefully. There's nothing worse than coming home after a holiday knowing that with a little more thought it could have been so much better!  This website focusses on Otways accommodation and is very simple to use. Simply make your selection from the drop down menu at the top of the page. If you intend going all the way to the end you might like to have a look at Port Fairy Accommodation.
The Otways Hinterland
If all you want to see is the Great Ocean Road then your holiday will be well spent. But, if you have the time you must venture a little further inland. You don't have to travel far from the coast to experience some off the beaten track delights. The Great Otway National Park is a wonderland in all seasons. Much of its 103 square kilometres is made up of temperate rainforests which of course are home to some spectacular waterfalls with ancient, towering gum trees shadowing cool, forest floors with fern laden gullies. Almost all of the waterfalls are accessible with well made tracks which makes walking a pleasure. Many of these waterfalls are near the small township of Beech Forest; home of legendary runner Cliff Young.
If you want a little bit more adventure you should head to the Otway Fly, the longest and highest, rainforest skywalk in the world. You can also try abseiling or zip lining from tree to tree high above the forest floor. Not far from here is the small town of Forrest which has some of the world's best mountain bike trails and it's here that you can also paddle with platypus. Another highlight of this area that you shouldn't miss is the Cape Otway Lightstation. This is Australia's oldest, surviving lighthouse. Very spectacular in stormy weather and a great location to check out the passing Southern Right Whales in winter.
Being a tourist can be thirsty work. Fortunately, the Otways is home to quite a few wineries and a handful of home made breweries. You'll probably get hungry as well and again you'll be well looked after. This is foodie heaven. Perhaps the best way to experience this aspect of our region is to follow the Otway Harvest Trail. This will ensure that you get the most out of the Otway's finest wineries, provedores, cellar doors, farmgates and so much more. Enjoy!
The Great Ocean Walk
Once you arrive at Apollo Bay you will be at the beginning of the Great Ocean Walk. This walk follows the coast for more than 100 kilometres all the way to the twelve Apostles. It weaves its way westward through the Great Otway National Park passing beautiful, deserted beaches, eucalyptus forests and a sensational marine sanctuary. You can camp on the walk if you wish at designated camping spots ( you will need to book to do this ) or you can stay at various private accommodation along the way. If you don't have a vehicle or you would prefer not to use your own, you can take advantage of the Great Ocean Road Shuttle Service and there are now a number of Great Ocean Walk tours. This service can pick you up and drop you off from wherever you are staying. This will enable you to do whichever section of the walk you like. Very convenient. Don't forget good hiking shoes!
For loads more information please visit:   http://www.thegreatoceanwalk.com
The Otway Ranges in Victoria's southwest can have extremely unpredictable weather. This unpredictability is due to fronts and high and low pressure systems moving steadily along the coast and bringing with them different weather patterns. It can also be vastly different depending on location. The coastal region of the Otways and some inland locations almost always has better weather than 'the ridge.' The ridge is the high altitude range running from Lavers Hill through to Beech Forest and beyond. It can snow on the ridge in winter and rainfall is generally double that of the nearby coast. This however, has resulted in the ridge having sensational temperate rainforests and some of the best waterfalls in the state. Have a look at the tables below for average temperatures and rainfall.
Summer (Dec – Feb):
Avg temp: 22°C
Avg monthly rainfall: 37mm
Avg rainy days per month: 9
Autumn (Mar – May):
Avg temp: 21°C
Avg monthly rainfall: 62mm
Avg rainy days per month: 13
Winter (Jun – Aug):
Avg temp: 14°C
Avg monthly rainfall: 84mm
Avg rainy days per month: 19
Spring (Sep – Nov):
Avg temp: 19°C
Avg monthly rainfall: 64mm
Avg rainy days per month: 15
Otways Accommodation : Newest Members
Otway Life Magazine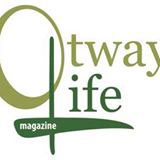 Otway Life Magazine: All about sustainable living, environmental issues, local flora & fauna, the arts, local news and information.
Read it online now.
Action for Dolphins
Proud supporters of Action for Dolphins.
Sea Shepherd
Otways Accommodation adamantly supports Sea Shepherd. Defenders of our oceans and all marine life.